Mr. Eazi has no other option than to postpone his Life is Eazi volume 2 North American Tour due to securing United States passport.
Hints of the postponement first surfaced over the weekend when the "Leg Over" singer wrote on Twitter that even if his band members have managed to secure their own visa, his own was not successfully processed. Mr Eazi wrote on his Twitter today that the decision to postpone the tour was both disappointing and frustrating.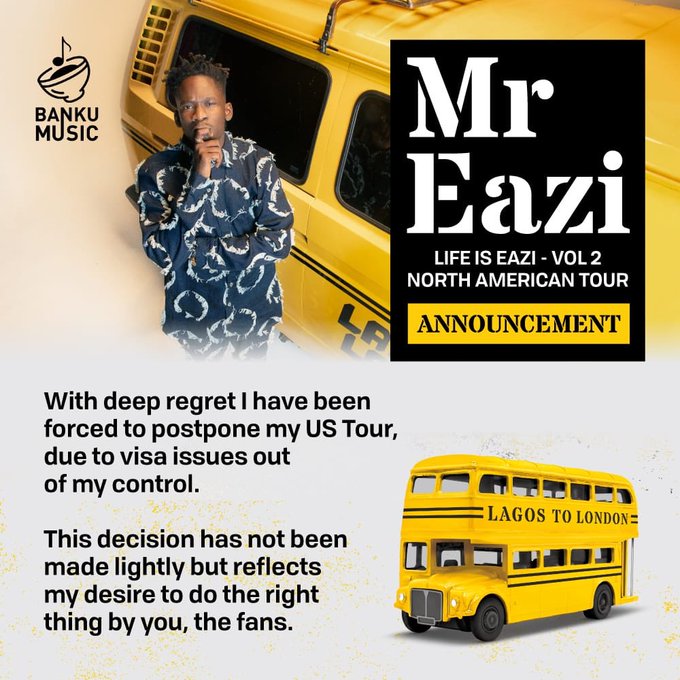 "It is with you in mind that I make this frustrating and disappointing decision to postpone and reschedule the March dates on my North American Tour," Mr Eazi tweeted. "Decision has not been made lightly but reflects my desire to do the right thing by you, the fans."
Mr Eazi was supposed to perform on the 16th, 21st, 22nd, 24th, 27th, 28th, 29th and 30th of March. His inability to get his visa issue sorted means the remainder of the March tour will no longer hold. "Whilst I anticipate my visa to be issued anytime now, I don't know for certain when this will happen.
It is this uncertainty that has created so much frustration and led to this last minute announcement." Eazi will announce new dates for his March tour. He also said refunds will be issued only if the fans decide the new dates are not comfortable for them.